The digital transformation of the healthcare system must be focused on optimizing services, guaranteeing a better patient experience and building better job guarantees for medical professionals. That was the conclusion of the webinar entitled "Digital transformation of operational support processes: supply chain, communications, biomedical engineering, among others", held as part of the Smart Health Latam Summit 2020, an event that brought together speakers from all over Ibero-America who are experts in artificial intelligence, machine learning, telemedicine and other technological innovations.
In the conversation participated Alfredo Rasmussen, Director of Medical Data at Clínica Internacional Perú; Juan Carlos Rodríguez, Director of Operations and Logistics at the Fundación Cardio Infantil in Colombia and Christian Peter Clausen, advisor for Digital Transformation at the Colombian Ministry of Health and Social Protection. The panel was moderated by Carlos Trelles, CEO of Axon Marketing & Communications.
At the start of the discussion, the panelists analyzed what has really been the background of digital transformation in healthcare systems, which has taken on special relevance in this era of pandemic and social isolation, in which technology has taken a leading role, becoming the best alternative if not the only one to give continuity to daily activities.
In this regard, Christian Clausen said that the digital transformation has been a process of "impeccable" technological adoption, as some institutions have been able to move their physical processes to digital. This step, according to Clausen, has not only been taken by healthcare entities with ample economic resources, but at a general level, technological progress has permeated both large and small healthcare service providers.
For Juan Carlos Rodríguez, "the best manager of digital transformation has been Covid-19". Rodriguez invited to be aware that digital transformation has two sides: one involving the processes supported by technology and the other concerning the mental transformation of leaders to be open to these changes. Based on the above, he pointed out that it is urgent for the digital transformation to be led by the managers of healthcare institutions.
Dr. Alfredo Rasmussen went further and added that technology applied to the healthcare sector must be patient-centered. For Rasmussen, the digital transformation that Covid-19 has driven also motivated regulatory processes, from the generation of health standards and laws, to the modification of processes within healthcare institutions, always having the patient and his or her life at the heart of the system.
Consequently, one of the reflections that was born was that the digital transformation applied to healthcare processes still has a long way to go, on which Juan Carlos Rodríguez was emphatic in ensuring that the challenges were still great, specifically in the digitization of medical supply chains in which, according to his perception, it's necessary more visibility and communication to optimize the transport of supplies and information, between the different agents of the chain.
For Christian Clausen, not only is there still a long way to go in this regard, but there is also a need to understand what he calls the "new meaning of medicine", supported by digital transformation, so that the care scheme moves from reactive to preventive response. To this end, modern technologies such as Artificial Intelligence (AI) and Big Data will help to understand patients' qualities in greater depth, with a view to providing better service.
In this sense, the physician Alfredo Rasmussen included that the context encouraged a process that has leveled in terms of innovation and technology to health services that were lagging behind in this area. Consequently, for him, there are still pending tasks in relation to the training of healthcare professionals, who, although they have been resilient, were at a disadvantage in terms of digital skills compared to other professions.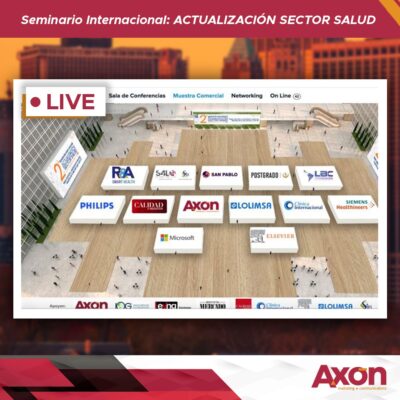 A reflection around digital transformation is the real impact of such a process on financial aspects: does digital transformation have to do specifically with the economic? What other elements of reference for transformation should we have?
Christian Clausen determined that healthcare provision has the same behavior of any company, with the differentiation that in this case human capital is a resource of care and vigilance. Regarding other important elements, Clausen highlighted that the educational power of digital networks has allowed a greater approach to the population, in order to achieve a preventive health approach, simultaneously with the development of more digital capabilities, both in patients and professionals.
On the other hand, Juan Carlos Rodríguez added that, although the economic approach is an inevitable variable, there is also the optimization of the service for the enjoyment not only of patients, but also of healthcare professionals in general, to whom technology and its advances will provide better psychological and physical health, for example.
Digital transformation, as stated in the webinar, is a process that should not stop. According to Juan Carlos Rodríguez, an expert in logistics operations at the Cardio Infantil Clinic, one of the most important in Colombia, the opportunity of the moment should not be missed, and "it is precisely from the organizational culture where the predisposition to a digital transformation and optimization of healthcare services should be encouraged," he said.
A similar point of view was expressed by Christian Clausen, who called for the development of an institutional synergy between Ministries of Health and healthcare service providers. According to him, in each of these entities there should be a digital transformation manager or a leader who is aware of technological advances and has the necessary creativity to promote their implementation in the professional work of healthcare.
As we have seen, digital transformation is a process that is not yet complete. Catalina Parada, CFO Axon Marketing & Communications and a qualified surgeon, said that "it is necessary to position leaders, whether they are managers or experts in the field, to direct the transformation according to the basic principles of an improved patient experience and the satisfaction of healthcare professionals by having better guarantees and tools to carry out their professional practices."