Suddenly and surprisingly (although a pandemic of this type was a danger that Bill Gates had already warned us about in 2015), COVID-19 disrupted all areas of human life on Earth. Historical precedents, such as what happened with the Black Death and the Spanish Flu, show us the potentialities of this virus. However, today's world is different because of globalization and technology.
For decades, technology has been affecting and modifying society at various levels, accelerating times, changing processes and even the way we relate to each other. Communication is one of the areas most affected by it, from the creation of telecommunications to the birth of Cybernetics in 1948, which together with the General Theory of Systems and the Mathematical Theory of Information, led to the union of social sciences and technology and laid the foundations for the study of Communications as we know it today. As Joan Costa points out in several of his books, this advance in science brought to Communication Communicology (communications applied in a practical way to business), Praxology (strategy and management of business communications) and ICTs.
In the context we are currently living, it can be inferred that we are in a new big bang like the one that occurred in the mid-twentieth century. This time, however, it will be boosted by globalization and the massification of technology. So, what can we expect from the communication leap when the pandemic ends?
It would be ambitious, in such a changing and uncertain scenario in terms of how long it will last, to say what the world will be like when the mandatory social distancing is over, the COVID-19 threat is controlled and the economic consequences become evident. However, the foundations for communicational change have already been laid. AXON Marketing & Communications has prepared our perspective of what we can expect based on the transformations that have already begun since the pandemic. What will be constant is the need to be resilient and open to change.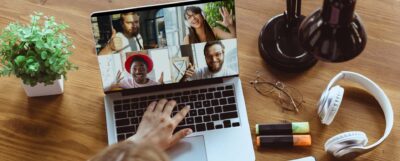 Virtual over face-to-face: This is the most obvious item, but also the most important. COVID-19 forced the whole world to #StayAtHome to limit the rate of contagions and protect the population at risk. What did this imply? A radical change in the routine and habits of people, but also of companies. The consumer no longer goes to them physically, but they need to go to the consumer's home. Thus, many companies boosted their presence in digital and traditional media, because street advertising and BTL marketing strategies are very limited and almost obsolete (except in very specific cases such as in businesses of primary need). E-commerce was boosted exponentially. Technology gurus had extreme predictions such as the disappearance of physical stores in a few years, however, today the COVID-19 accelerated this process leaving many businesses this option as the only way to continue generating revenue during the quarantine. Some Latin American countries have already increased between 40 and 180 percent this marketing modality. What does this imply? Increasing the brand's online presence, turning all strategies to digital and positioning and achieving engagement with its stakeholders through these channels. Also, it is necessary to have omnichannel to respond to the needs of stakeholders immediately and show quick reaction capacity. The growth of e-commerce, the need for omnichannel and online brand presence are trends that will continue to grow, with or without COVID-19. These are consumption habits that people are acquiring forced by circumstances, but that will persist. Especially because brands have increased their online catalog, improved user experience and electronic payment facilities. In addition, the fear of illness will mean that returning to a world similar to the one we knew will be a gradual process. No one will want to wait in line at the bank to pay for services if they learned how to do it online, or waste time traveling to another part of the city to buy clothes at their favorite store, if they can receive the package at home. Companies will not only have to adapt their business model, but also their communication strategies.
Importance of internal communication: with teleworking for all – well, not for all, but for many – internal communication is put at the center. All companies that can continue to operate with their employees at home are doing so. When all the quarantine measures are over, many will find that, if they were able to function this way, then why pay rent or building expenses. Telework not only implies a technological challenge, but also a communicational and cultural one. Internal communications (until now often in the hands of Human Resources departments without communication specialists) will become more important. No company can function if information does not flow between its departments and its employees. The physical place is no longer a place of belonging, so it will be necessary to create a virtual environment that generates that feeling and communication will be the tool for that.internal communication channels have to be more oiled than ever, both for work teams to function internally and for corporate communications to reach their internal audiences. Internal social networks, videoconferencing tools, collaborative work, platforms that allow the actions required by the home office and everything that serves to maintain operations with the correct flow of information will be as necessary an asset as office furniture used to be. In addition, more than ever, employees will be the best ambassadors of the brand, so a close, human and caring approach with them, will be what will be transmitted to the outside.
Relevant messages and content: if for some time the content was postulated to be king, today more than ever it is gaining prominence. The context of COVID-19 and the growth of traffic on social networks and the Internet makes it necessary to stand out for what brands and companies have to offer. The world has changed, consumers have changed and so have their interests and demands. In all areas, what matters is to provide information that is useful to the user. From how to disinfect the products you bought at the supermarket, to how to make homemade bread, repair a leak, improve the wifi at home or choose movies and books to entertain in quarantine. It is not for nothing that webinars and online classes (about anything) have multiplied in these times. The value of usefulness has always been present among users' requests, but companies have not always responded to that need. From now on, they will understand that listening to users is more than a marketing trend. Another demand of these times – which has also been unheard for years – is that messages must be clear and truthful; hiding information or lying is very costly. It is time to recognize mistakes and repair them, to open doors to let the public know the internal processes. When coming out of quarantine, many services will need to show their stakeholders their hygiene and health safety protocols; how they behaved during the pandemic with their numbers, whether or not there was speculation with their prices; how they behaved with their own collaborators, among other items that will be important for society. Social responsibility will be extremely valued during and after COVID-19, as well as empathy and closeness to the community.
Redefining entertainment and luxury: The industries most affected by the pandemic are luxury, tourism and entertainment. Both because of the limitations to their industries imposed by preventive measures to curb the contagion, as well as the global economic consequences of having countries paralyzed for so long. The consulting firm Bain&Co projected possible scenarios, and in the most positive one, the luxury market will have a contraction of 15 to 18 percent, in the worst one a 35 percent. The tourism industry is much worse, predicting the loss of 25 million jobs in the airline industry alone. In entertainment, concert tours, theatrical performances, sports shows and movie screenings are completely paralyzed. According to Bain&Co, once the pandemic is over, luxury will have to redefine itself and become more accessible to lower purchasing power, as well as being socially and ecologically responsible.
The concept of socially responsible brands is becoming an increasingly strong trend, which will continue after the quarantine is lifted. It is not known for sure how long tourism will be on pause, nor how long it will take for people to lose their fear of traveling once the restrictions are lifted, but that will depend a lot on the communication that destinations, products and services do. Many brands have decided to go online to bring destination experiences closer to the homes of their audiences, with interactive elements, videos, activities and classes; however, the return will require more than ever a transparent, clear and continuous communication, that will be the recipe to combat fear and recover the enthusiasm of tourists to know new places. They will have to transmit security, responsibility and confidence to return to the arena. Something similar will have to be done by entertainment, which will have to deal more than ever with the popularity of online entertainment platforms that became the protagonists of the dispersion during the isolation.